Sharing Accounts
With the premium plan, you can access the accounts of anyone who shares their Karani account with you. This is perfect for supervisors overseeing their staff team's fundraising, or for a team sharing accounts across multiple users.
Requesting account shares
From the Karani dashboard, click on "Settings" then click on the tab that says "Sharing"
You'll be taken to this page.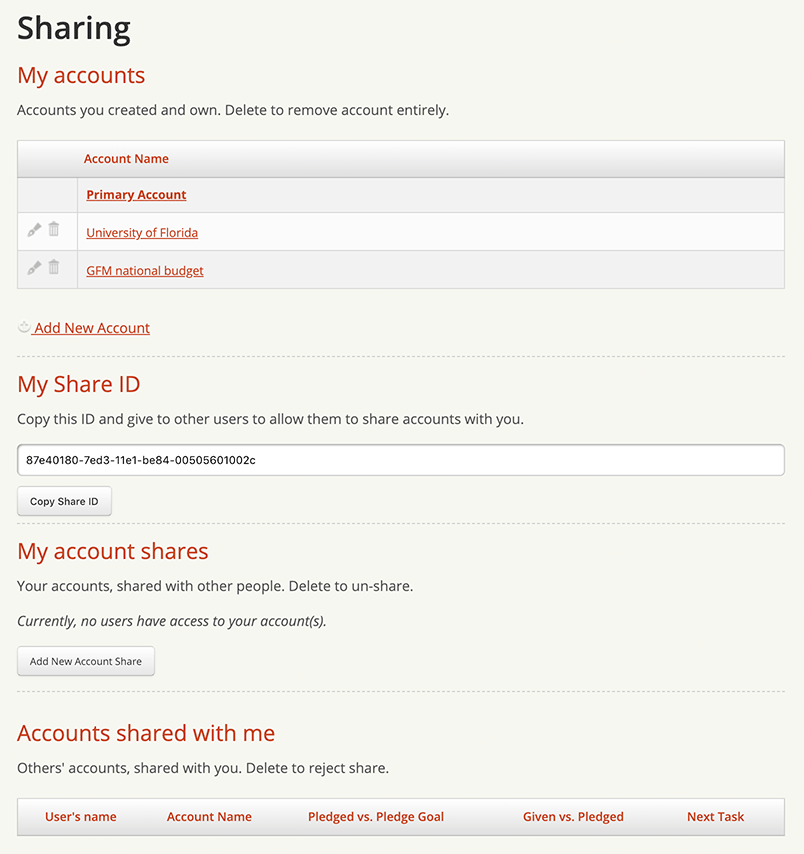 From there, highlight and copy the ID underneath the heading "My Share ID"
Paste the "My Share ID" into an email and send it to the person you want to share their account with you. They'll take it from here.
After your colleague shares their account with you, you will have access to their account by selecting the drop down menu next to the "Account" dropdown box in the upper right corner of the dashboard. The shared account will be displayed along with your Primary account.
You can switch accounts from any page (dashboard, contacts, gifts, tasks, reports, etc.) making it easy to view your colleague's progress from anywhere in Karani. You can do everything except change your colleague's login information, their payment information and subscription plan.
Sharing your account
First, click the Settings button to get to the settings page.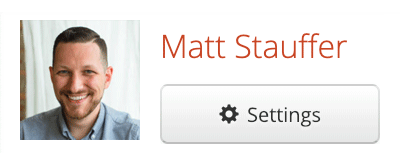 Select the "Sharing" tab. The page will look like this: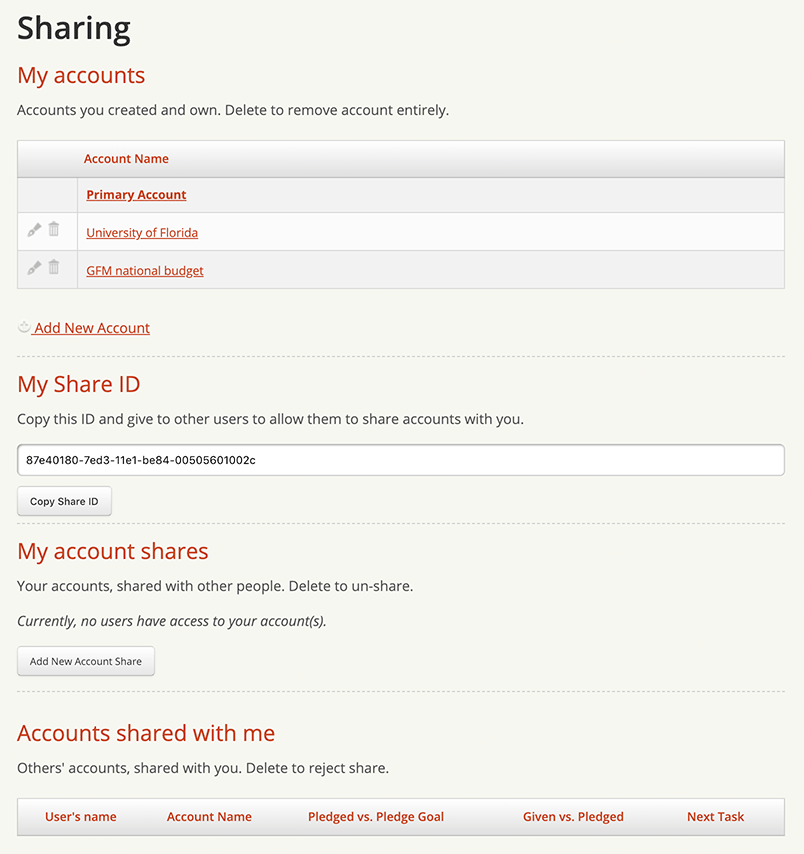 If you're not a premium user, you may not see a few of the same sections here. Don't worry!
Now, click "Add New Account Share".
Copy and paste the "My Share ID" that the person you are sharing your account with sent to you.
The "My Share ID" will look something this: b813cca2-5c5c-11e2-be84-00935651009c
After that, create a nickname for the person you're sharing with, something like "Jalissa" or "My Staff Director"
The person you share with can view and change anything in your Karani account (contacts, tasks, groups, reports, preferences, etc.) except your login information, payment information, and subscription plan.
Here's what a form filled out with a "My Share ID" and nickname looks like.

Then click the "Share Account" button and you're done!
How to remove a shared account
To remove an account that was shared with a premium user, select the "Sharing" tab in the settings and you will see a table of accounts that have been shared with you.
Click the red "x" next to the account name that you would like to remove.